Scrap Matters is experiencing some technical difficulty due to the recent server move and is currently down. I'm going through withdrawal! I never realized how much time I spend there until it is down. Hopefully it is up and running again very soon.
Tonight Paul and I are headed to his 15th class reunion. It should be interesting. So far the last I heard most of the people I talk to that he graduated with aren't going to be there. It will be nice to have a night without the kids though. We'll actually get to sleep in if we need to on Sunday. lol.
The kids are finally getting a chance to ride with Paul in the truck this summer. On Monday night, Paul made it through town so we met him up at the shop so Michaella could go with him. Hunter was counting down the days until he came home and he gets to go with him. I think that this is one of their highlights of summertime-spending alone time with their daddy. They talk about it the entire year.
On Monday Kailee had her 18 month checkup. Her Dr. confirmed that she is probably allergic to peanuts and prescribed an epi-pen for her. He also said we should have have Benadryl with us all the time, too. Her reaction to them got worse than it ever has this past weekend. Her eyes started swelling shut. Normally she would just get a rash. We have had a feeling that she was allergic since Jan, so we have been really trying to make sure we avoid them around her as much as possible. Now we just have to make sure that everyone else she is around her knows can't have them.
So while it's down I'll show you some of the other layouts I made this month during my guest spot. lol.
First up is a page using Andilynn's newest kit, Festiva.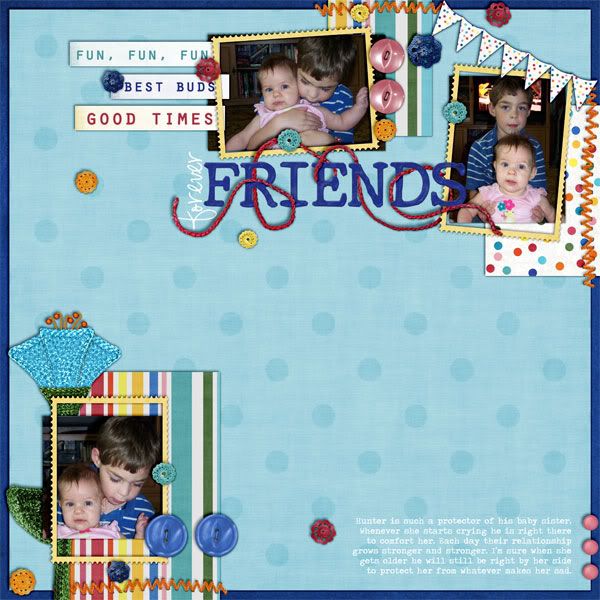 Check out this fun new kit by Trixie Scraps & Bella Gypsy called Saffron Blues.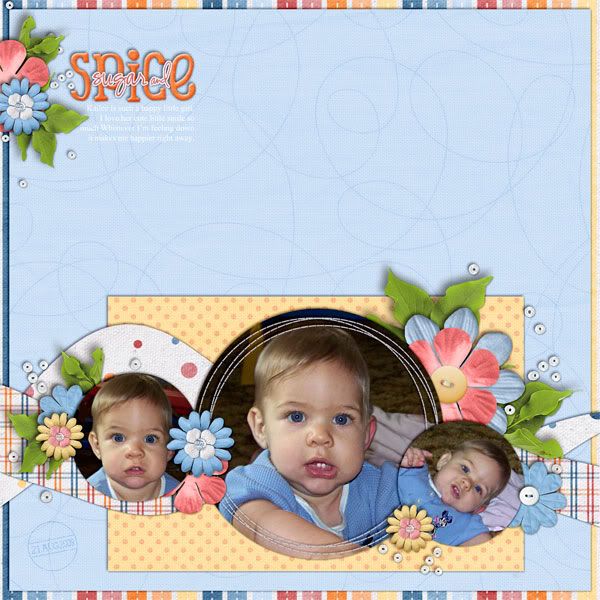 So these pictures are about a year after the pictures in the previous page. Can you believe how much she has changed? I know I sure can't. When I seen I Scream, You Scream by The Design Girl, I just knew I had to use it to scrap these pictures.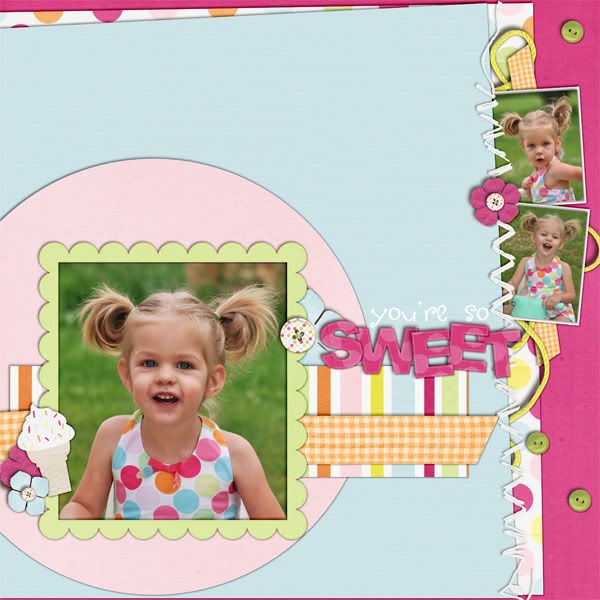 This page is actually scrapped with pictures that I took during our weekend in the Twin Cities. I just love Haynay's Love My Doll and Love My Baby kits. They were just perfect to scrap this special moment. She is already wanting to be like her big sister. lol.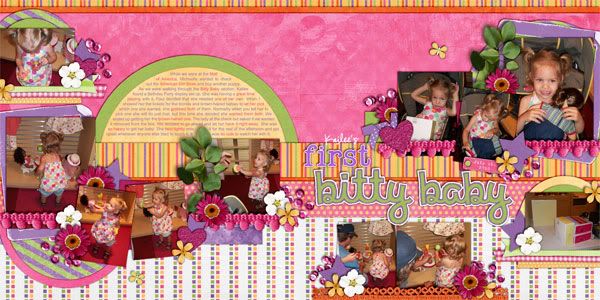 On Saturday that weekend we went to the Como Zoo. I'm the first to admit that I'm a shutterbug. lol. I took over 60(!) picture of this little guy! He was just being too cute. Someone had dropped a plastic cup in their enclosure and this baby orangutan was so interested in it. I used Boys in my Backyard by Stolen Moments & Stacy's Backdoor Scraps.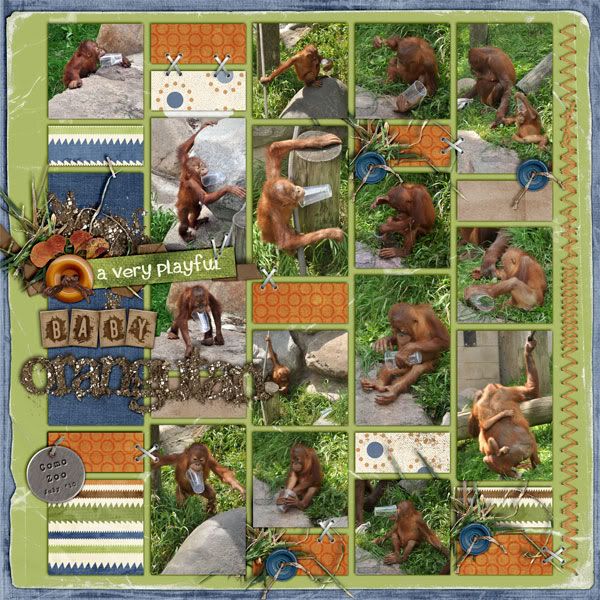 Also went through the conservatory there. These pictures are from the Japanese Garden. It was about ready to start raining while I was checking it out. This page uses Spring Whisper by LDrag Designs.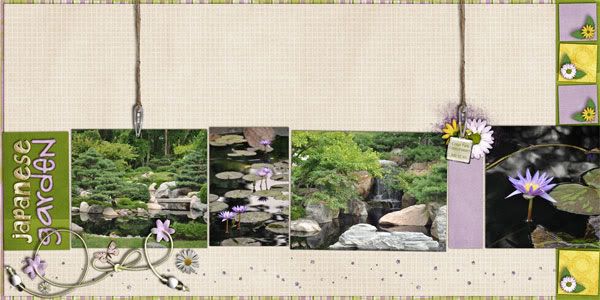 Sunday it was time for Valleyfair! Thoroughly Amused by Haynay Designs & Plum Dumpling Designs was the perfect kit to scrap these pictures of Paul & Michaella going on the Corkscrew for the 3rd time in a row!
These cute little guys are in the courtyard in front of Sleeping Beauty Castle. I used Forest Friends by Erica Zane. Love those cute little critters in that kit.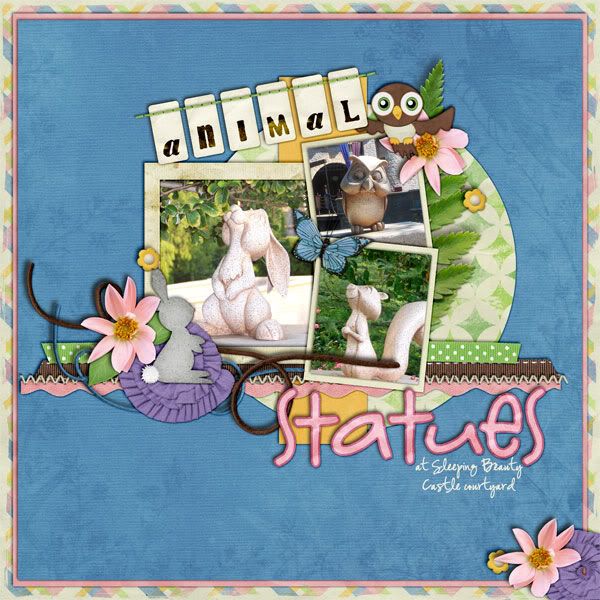 Yep, finally getting a couple more pages scrapped of our vacation to California in 2007. lol. I guess I'm trying to draw it out until we make it back to Disney again. These pictures are from Sea World. I used Bella Gypsy's At the Dropoff Value Bundle.
Love scrapping my Disney pictures & sometimes some of them just call to be scrapped more than once. I already have this picture scrapped and in my FINISHED Disney World album, but Sahlin Studio's Innovation kit was just calling for me to re-scrap it digitally.
One last one for today. :) This one uses Celebrate (bold) by Chelle's Creations. It has such fun birthday elements.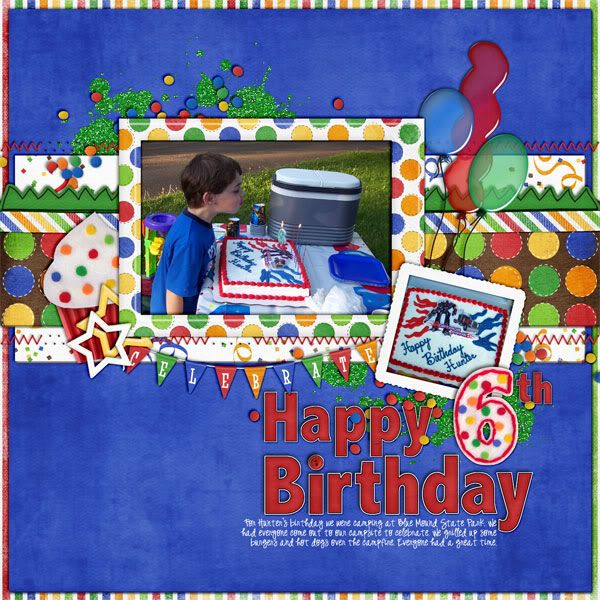 Can't wait for Scrap Matters to be up and running again so you can all see the awesome new releases that the great designers have coming out this week.