Took the kids to the zoo on Saturday for the first time this year. They were celebrating the triplet cubs' first birthday. When we woke up that morning it was so cold and windy that I decided that we weren't going. Michaella had a dance performance at the local Home & Garden Show in the morning, so we headed there and then we were going to go get her volleyball shoes since her first tournament is this Saturday. Apparently her current shoes have no grip left on them and she keeps sliding around at practice. After she was done dancing we headed to town to get her shoes. When we finished our lunch at Culver's I decided it wasn't to bad there and the wind was blocked much better there than it had been at home. So we headed to the zoo. When we got there we went right to the building by the tigers to wait for the zookeepers to let the cubs into their enclosure. The zookeepers had made the cubs 3 cakes covered in meat with the number one on top. They also made a few additional number ones to set around the enclosure. The cubs went right for the cakes when they were let in and started batting them around a bit. The kids had a great time watching the tigers interact with their cakes. From there we decided to go check out the baby monkey that had been born a couple weeks ago. The kids had fun interacting with the little spider monkeys, here. The one kept following Michaella's birthday hat she had gotten when we were by the tigers. Then it was on to the baby rhino that was born in Oct. We hadn't made it to see him yet and the kids were so excited we were finally getting a chance to do it that day. It was also our first time getting to see their new habitat, too. Unfortunately our first time though he was just laying next to him mama, so we went to the giraffes to see how big the baby giraffe had gotten. The last time we were there it was only a couple weeks old. They were still in the winter view building, so it was a nice break from the cold once again. We managed to get from one building to the other just as we were just starting to get a little chilled. The little giraffe kept watching Kailee in her stroller. It was so cute. The kids decided we should see the baby rhino one last time before we left. This time he was up and walking around. The kids were glad that we had decided to stop again. :)
For the second round of ScrapMatters Design Star contest the requirement was to make a paper pack with 8 papers (5 patterns & 3 solids). I decided to go with a zoo theme since I have so many zoo pictures to scrap and plan to keep adding to them. I really like how they turned out.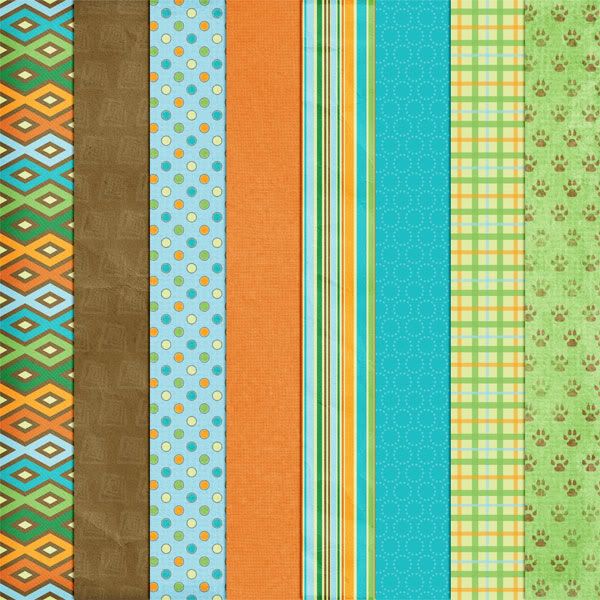 For the third round we had to make the elements. Fifteen of them to be exact. I had so much fun making the little animals for this kit. I ended up making more than I needed so I have a few that may end up in an addon at some point. :)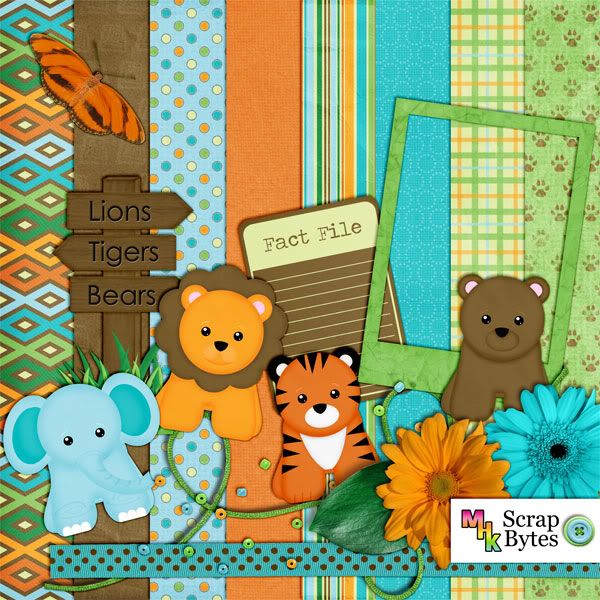 I'm currently working on my kit for round 4 and can't wait to show it to you. We had to do 12 papers, 25 elements and an alpha. I have a little way to go with it before it has to be posted on Monday.
I have another cupcake for you today, too. :) I made this one for my grandma to take to their church group meeting the other day. It's a mint chocolate cupcake with a creme de menthe buttercream frosting sprinkled with gold glitter and a chocolate shamrock on top. Unfortunately the mint flavor didn't come through as well as I was hoping, but they were still very good.
Until next time...
Happy Scrapping!