Things have been very busy around our house since Christmas. We started working on some more home improvement projects on New Year's Day and they are still going. My husband and dad pulled up the carpet in my kitchen and replaced it with new laminate. When we moved into this house 13 1/2 years ago that was one of the first things I said I wanted to replace. I finally got it accomplished. :) We also took down a stubby 1/2 wall that separated our kitchen from the hallway between our family room and bathroom. Just by doing that and extending the flooring into the hallway made such a difference in our kitchen. Though now it needs to be repainted because there is not enough contrast anymore. lol. Just what my husband wanted to hear. Somehow whenever we do a home improvement project it usually leads to at least two or three more projects. The following weekend we (meaning my husband and dad again. lol.) gutted our one and only bathroom down to the studs and put up new drywall. We also put the new toilet in right away too since that seems to be a necessity around here. ;) We so far have the walls painted and new shower doors in, but still needs to do the vanity, linen closet, shower fixtures and lighting. Additional projects out of this one are adding a nice size cupboard to my kitchen (with a removable back to give access to the shower plumbing) and sheetrocking a wall in my laundry room where there was a window between it and the bathroom and painting it (along with the addition of cupboards in my laundry room, which my husband has yet to be informed will be going in. ;) ). The house is a total mess right now with everything out of place, but it's going to be all worth it in the end when it's all done. Next room I have to work on my husband to start on is our family room, but that might be awhile again after this latest round.
Well I have made it through becoming the mom of a teenager unscathed so far. lol. Though it seems some how overnight she grew up even more than she already was. :( She went to bed the night before her birthday being my little girl to waking up the next morning as quite the young lady. Everything she does now seems to be so much more "grown-up" than just a few days ago. I'm not so sure I'm ready for all this.
This week I have a new kit for you. The colors of it are so bright and fun. Just looking at the colors of it I can't help but smile.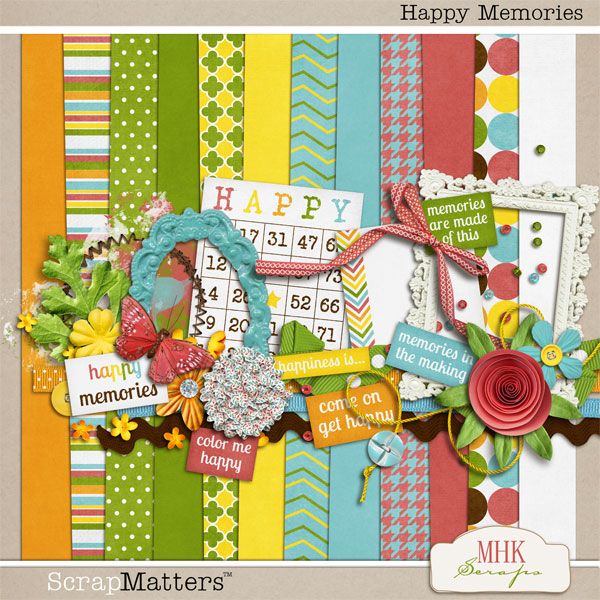 Here are some layouts to give your some inspiration from my CT and the SM CT.
If you missed it I also released three pack for the January Mix-A-Kit at ScrapMatters. They would work great for your everyday moments.
Here are a few pages of what my CT and the SM CT did using them.
Until next time...Happy Scrapping.