Over the last few months I have really gotten into cupcake and cake decorating. I think I've mentioned it before that I started doing them to practice for my kids' birthdays since my youngest can no longer have bakery cakes. It's always been one thing I'd like to learn how to do, too. In January my sister and I also took the first Wilton cake decorating course. Would really have liked to take the one that starts in March too but with Michaella's activities schedule it's not possible at this time. Hopefully I can take the one they have in June, though. Not only have I been practicing for the birthday cakes, but my little sister got engaged in November and is planning on having me do cupcakes and their cake for the wedding. So my kids (and everyone else) have been enjoying eating all my trials. lol.
For Kailee's birthday, I decided to go with a Princess and the Frog theme. She loves frogs and that seems to be her favorite movie at the moment. Whenever you ask her is she wants to watch a movie that is the one she will dig out. I was very happy with the way it turned out. She liked it too because every time she seen it she would go "ooooooooooo". :)
Michaella wanted to have an animal print themed party. So for her's I went all out. Everything matched from the invites to the cupcake wrappers. Even the cake matched. ;) She had also been looking over my shoulder when I was looking at different cake designs awhile ago and spotted the topsy turvy style cakes. She decided that was what kind of cake she wanted. No small orders for this one. It took me forever to get the decorations done on her cake, but it finally got done. I even used two colors of frosting on the cupcakes. Love how they turned out!


Hunter's already got his thinking cap on trying to decide what he wants me to do for his birthday. We'll have to see if he comes up with a more complicated design. lol. At least I have until May before I have to do his. Right now he is talking about wanting a Super Mario themed party.

So along with all the birthday cakes I've also been trying out different cupcake combinations. Whenever we have a family get together I have to try a new combination. I tried to take pictures of them but forgot a few.


In October I made a pumpkin spice cupcake with cream cheese frosting (decided I didn't care for these) and chocolate cupcakes filled with dulce de leche frosted with caramel buttercream (so yummy). For Halloween, I made purple & orange colored vanilla cupcakes with the left over cream cheese frosting from the pumpkin cupcakes.
For Thanksgiving, I did another chocolate cupcake with dulce de leche and whipped cream frosting. Christmas was chocolate cupcakes with peppermint buttercream and vanilla cupcakes with Oreo buttercream (both of these went over very well).
This one was a chocolate cupcake with a marshmallow cream filling and a whipped frosting.
Also gave making cupcake wrappers a go, too. I used my Tea for Two kit to make these.
I had never had red velvet cake before but after seeing it used about every week on Cupcake Wars on the Food Network I decided to give it a try. So what better time than Valentine's. :)
Of course, how can you make so many cupcakes and not have a little taste tester. lol. Kailee was definitely up for the job! Now whenever I get the mixer out she is right there at the counter with her little mouth open pointing at it, waiting for me to hand over the beater or spatula. How can you say no to such a cutie? ;)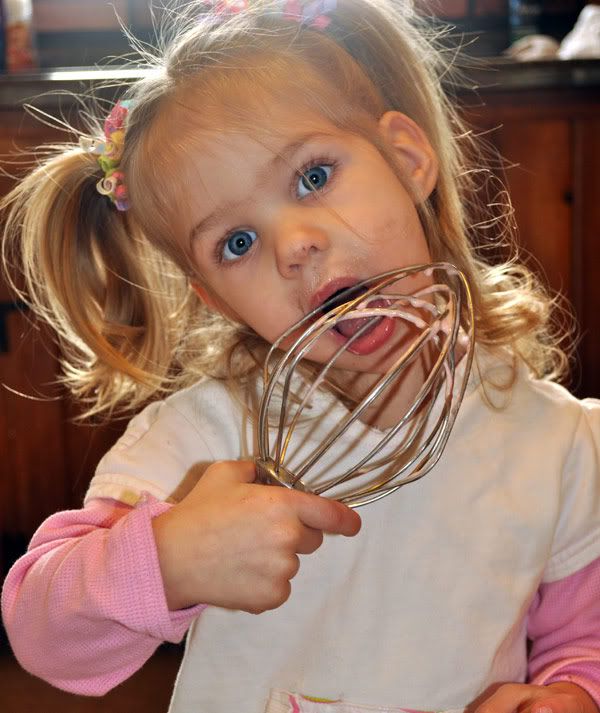 Can't wait to try some more cupcakes (and neither can my family. lol. ;) )
I also decided to give the Design Star contest a try again at Scrap Matters, but unfortunately I didn't make it past the first round this time. :( But have decided to continue to play along to work on my designing. You can find my first round mini
here
. Tomorrow the second round gets posted and I'm so excited to show you what I came up with.
Until next time...
Happy scrapping!